I currently have 6 designs entered in Minted's wedding invitation contest. They asked specifically for same sex marriage invitations. While I don't think any of my gay friends would consider this design over any other design on the site meant for hetero-couples, I do think it evokes a great sense of pride! This invite has a quirky and vibrant vibe, with a fun play on "My Big Fat Greek Wedding," although none of my gay friends would ever use the "F-A-T" word! Living in the Chelsea neighborhood in Manhattan, I am accustomed to seeing this sense of pride everyday, I love that I live in a neighborhood where you can be yourself and love whomever you want!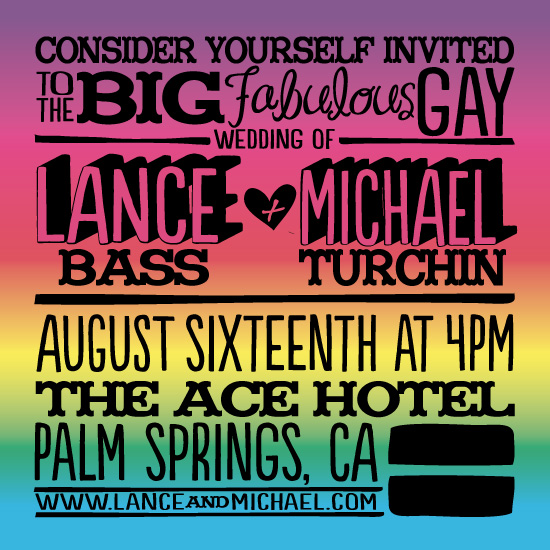 Chelsea – click on the image to vote for my design! 
Heck, I would totally use this invite for my wedding, although I might have to amend "Big Fabulous Jewish/Irish Catholic Wedding!" My Bat Mitzvah was rainbow-themed, complete with multicolored napkins, table cloths, and a rainbow balloon arch over the dance floor that my family and friends still talk about! You can actually make the ballon arch a day before your wedding!
Rainbow Wedding board by JaxRobyn.